Kate's Meatballs
December 2, 2002
Kate Donelan gave me this recipe. It's great as a party appetizer and couldn't be easier to make.
Pace Picante salsa, medium spicy, no chunks, 16 oz
Grape jelly, 18 oz
Safeway's bag of Armanino frozen beef meatballs, 48 oz
That's the ingredients I use, but you can use another salsa or another brand of frozen meatballs. Costco sells delicious frozen meatballs, but the bag is 96 oz, so double the sauce. Mini meatballs work better than the large ones.
The easy recipe is as follows: Throw the ingredients into a large pot. Stir and simmer until the meatballs are warm. Serve with toothpicks.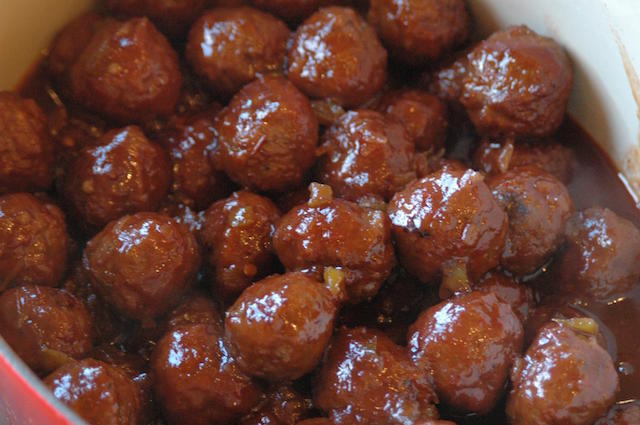 You'll get better results if you thaw and dry out the meatballs first. This will allow them to absorb the sauce a lot better. Spread them out on a cookie sheet and bake them at 300° for about 20 minutes or until they look dry but not brown.
You'll also get better results if you let the grape jelly melt and mix with the salsa before adding the meatballs. Put the salsa and the jelly into the pot and stir over low heat until it's all melted.
I once used grape jam instead of jelly, and that worked well too.
We served this at our wedding. The cooks threw the three ingredients into a large oven container (those disposable aluminum ones) and did the whole thing in the oven.
The above amounts make a lot of sauce, so if you're going to increase the amounts you could probably triple the meatballs but only double the sauce.