Mexican Shepherd's Pie
February 1, 2009
This is a pretty standard shepherd's pie, but with some Mexican seasonings. This is about the easiest recipe you can make, and it's delicious. Serves 4.
1 lb ground beef (I prefer 20% fat)
1 8-oz can of whole kernel corn
1 packet taco seasoning mix
1 pouch Betty Crocker Butter & Herb instant mashed potatoes
⅔ cup milk
2 Tbsp salted butter
Shredded cheese (Mexican mix)
Either one standard round glass pie dish or four small ceramic pie dishes
We use medium-spicy ("original") seasoning mix, but substitute mild or hot if you'd like.
Pre-heat oven to 400° F.
Fry the meat on medium-high until it's dark. Don't stop when it's medium-gray and don't spoon off the fat.
Add the seasoning mix according to the directions on the packet. Usually you have to add some water and boil it off for a few minutes.
Add the can of corn, including the liquid, if you want.
Make the mashed potatoes according to the directions (using the milk and butter).
In the pie dish lay out the meat and corn first, then the potatoes, then some cheese.
Bake until the cheese is brown, about 15 minutes.
Let sit for at least 5 minutes before eating.
If you use the individual pie dishes and don't need all four right away, leave the cheese off the extra ones and put them in the refrigerator, covered by foil. You can later add the cheese and bake them.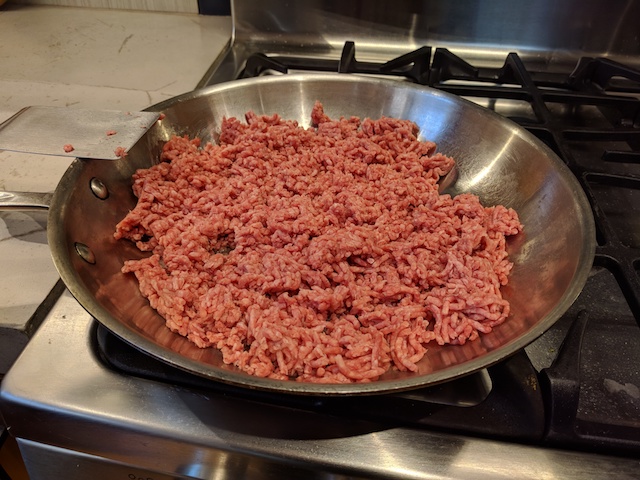 I prefer 80% fat-free beef.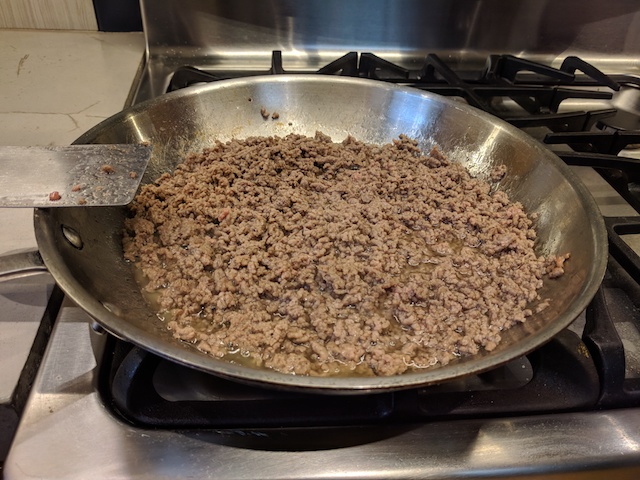 Don't stop here. There's still water left, so it's no higher than 212 °F and hasn't browned nicely.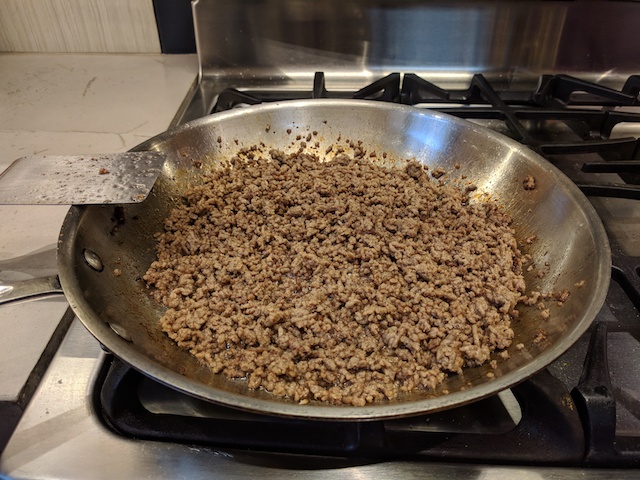 That's better.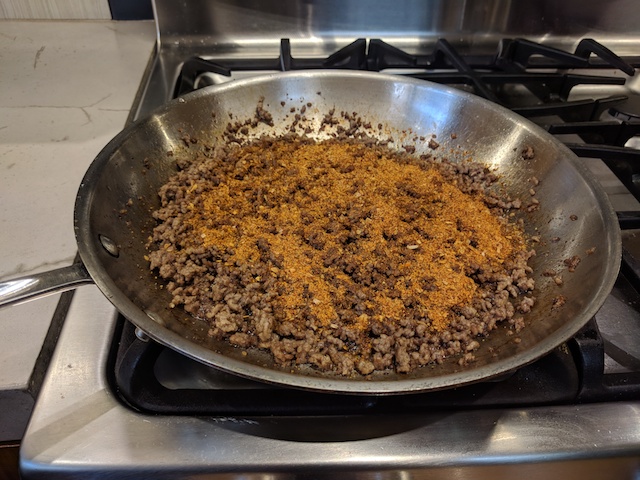 Add the spices, about ¼ cup. Add about a cup of water and stir occasionally for a few more minutes.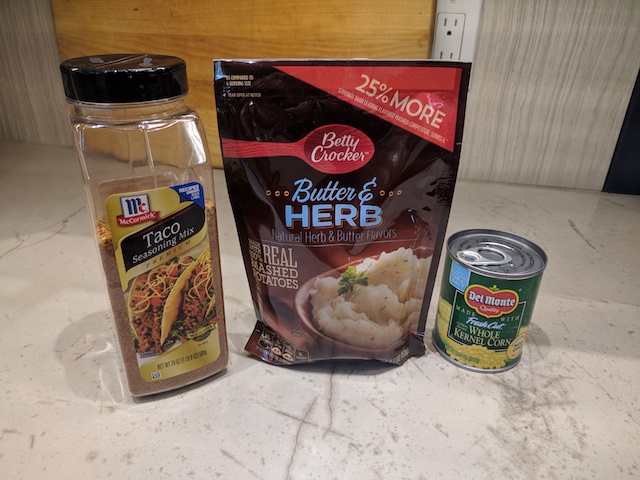 Get the taco seasonings on Amazon.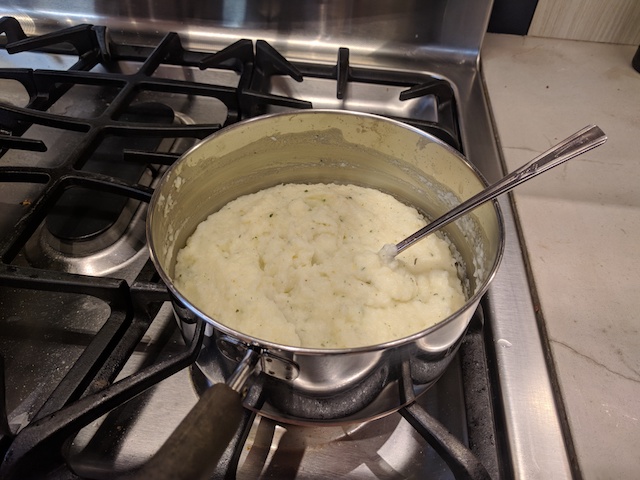 Make the mashed potatoes according to the recipe. Add a bit of extra milk, about ¼ cup, to make it easier to spread later.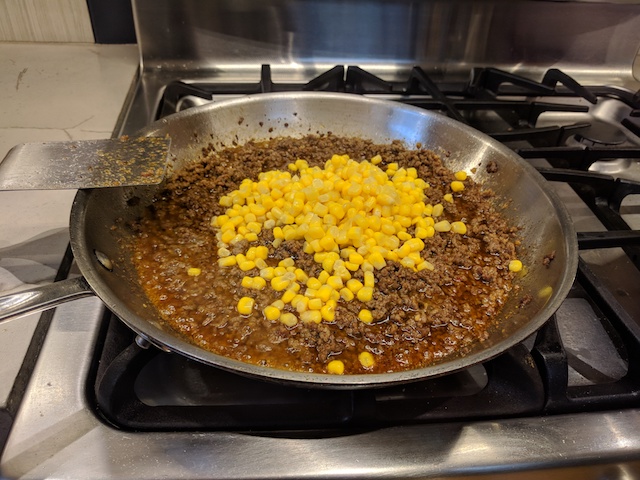 Add the whole can of corn, including liquid if you want. I do this toward the end so the corn doesn't get mushy. Add earlier (with the spices) if you want them cooked more.
Split the meat across four oven-proof bowls. Add the potatoes on top.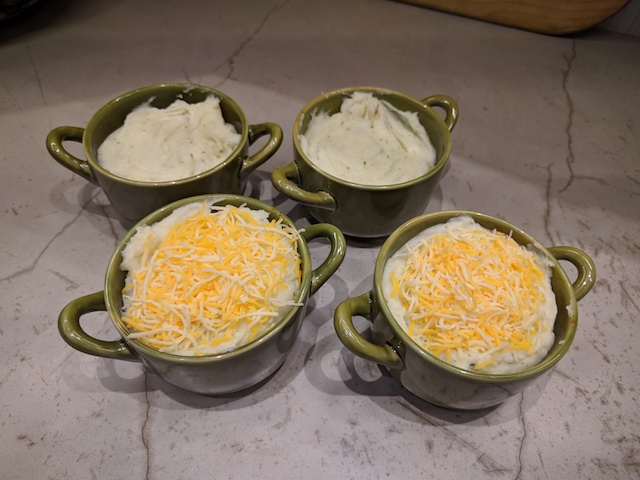 Add the cheese to the ones you want to cook right away.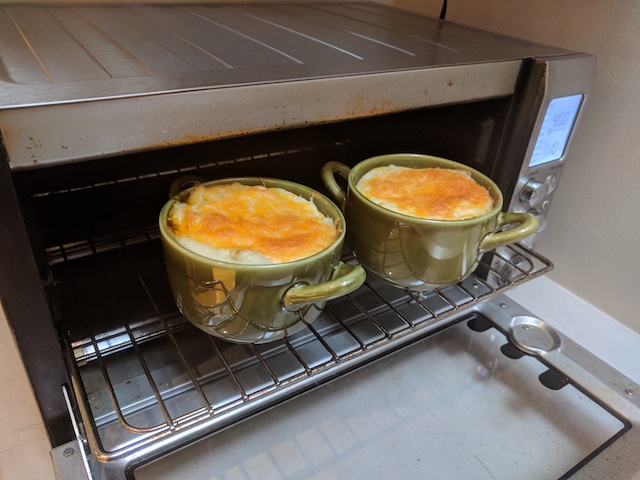 It's about 15 minutes at 400 °F, but keep watching it after 10 minutes because it goes quickly from barely brown to too brown. If you're in a rush you can instead just put the toaster oven on "toast" for about 4 minutes.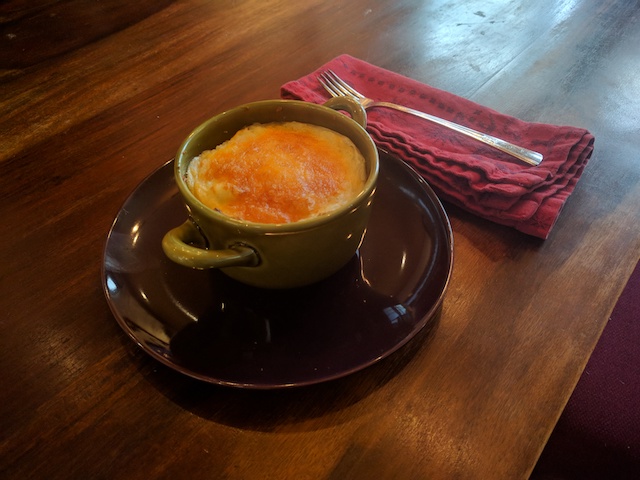 Let it sit at least 5 minutes, and probably more like 10 minutes, before even trying it. Those potatoes insulate really well.